Whitepages firmly believes in using data for good, and we understand that people have different needs when it comes to privacy. We will respect and assist with any requests for privacy as it relates to the information we provide.
Currently, it is not possible to make edits to individual listings. This is an option we hope to have in the future, so that you have more control over what information is available.
If you'd like to remove a listing associated with your identity, we can help. Please first obtain the URL/web address that contains your contact details, and then use that URL/web address to complete the opt-out process.
Please be aware that Whitepages is not the only company that publishes contact information online. Whitepages is only able to remove information on the services we provide. If you are concerned about privacy, we recommend searching for other websites that may potentially publish your information.
How to get the URL/web address for your listing
Use the Person Search feature to search for your listing by using your first & last name, along with city and state.
Locate your listing on the results page, and then click View Details. Please note: Listings in a blue box are specific to our Premium membership, and are not available to visitors on our free site.



Confirm that the listing is associated with your identity. This can be done by verifying the available phone number and address as yours.
Copy the URL/web address from the address bar. The URL/web address can be found in the address bar at the top of your internet browser. After highlighting the text, you can right-click and select copy. This will digitally copy the URL so that you can use it in the next step. Please note: The URL/web address you copy will have a small reference number at the end, usually 7 digits long.
Removing the listing via our opt-out service
Access the Opt-Out Site

Paste the URL/web address into the entry field by right-clicking the entry field and selecting paste. Press the black "Opt-Out" button.
The confirmation page will appear, providing a final chance to verify the contact details of the URL/web address you provided. Click "Remove Me" to continue.
Please provide us with a reason for your request. This will aid us in improving our product for visitors in the future. Click "Submit" this when you are finished.
Input your telephone number to verify the removal request. This is collected to verify association with the listing and secure details of your identity, and will not be resold or used on our site. Review the agreement and then press "Call Now to Verify" to receive the phone call.
A four-digit code will be provided, and you should receive an authorization call at the number provided in the previous step. Follow the instructions and input the code when prompted.
If you were successful, the page will update and confirm that we are processing the removal of your listing.
Please be aware that we do not have the ability to hide your information on databases we don't control, such as public records. Additionally, some third-party search engines may display information cached from our sites. It may take longer for search engine result pages to delete this cached data, up to 30 days in some cases.
How to Remove your Premium Listing
If you'd like your details to stop displaying on our site, you need to either be the person associated with the relevant name, address, or phone number or be legally authorized to act on behalf of the person.
Due to the extensive number of systems involved and the time it takes to complete, all removal requests must be submitted through a support ticket.
After following the instructions outlined in the video above, visit our support request page and select "I need to edit or remove a listing," or you can follow the instructions below.
First, you'll need to locate the URL/web address. Please locate your listing on the standard Whitepages search site and right click on the "View Report" button. Select "Copy link address" from that drop-down menu. Lastly, go to the support request page. Right-click into the " and paste the URL/web address you just copied.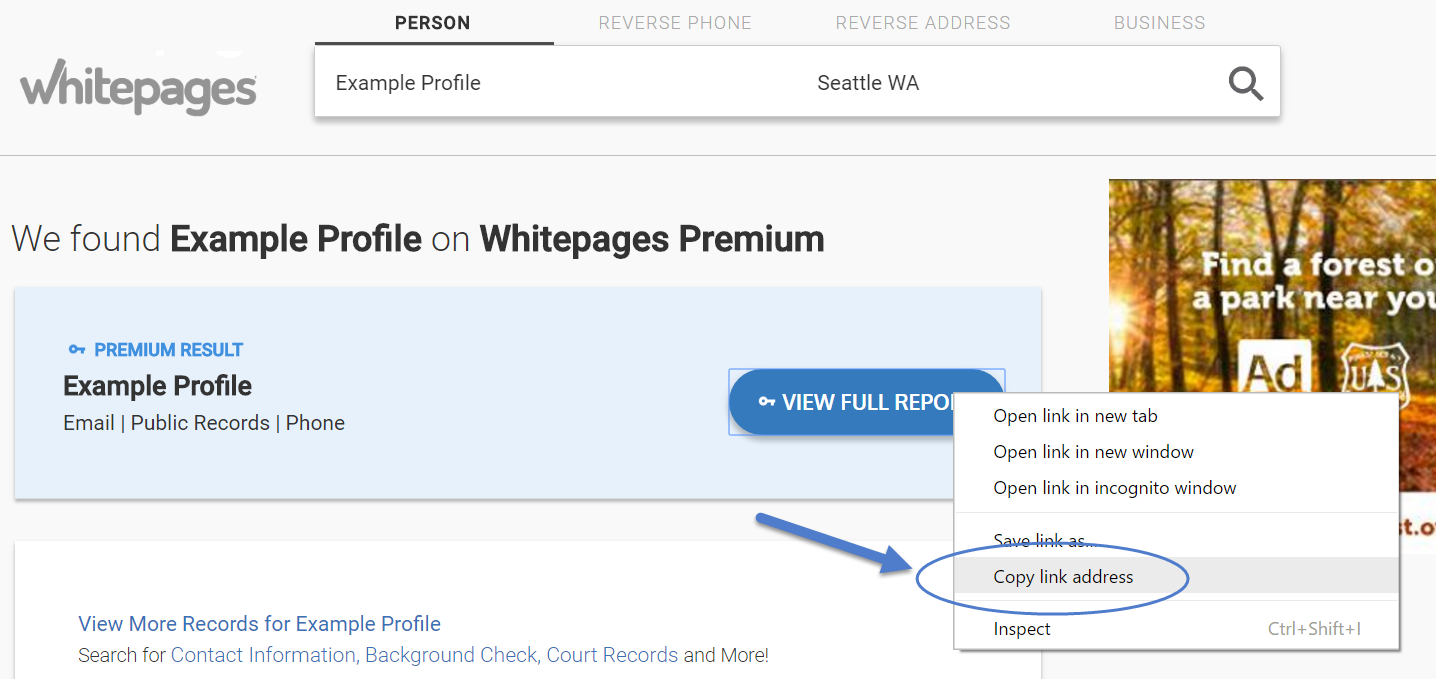 In addition to providing the URL/web address to your Premium listing, include the following information so we can quickly process your request:
First name
Middle Initial
Last name
Address—Specifically city and state
We will no longer display that listing, including all addresses and phone numbers associated with a person record. This means that your contact information will not be visible to anyone. Please be aware that we do not have the ability to hide your information on databases we don't control, such as public records.
Once we have responded to your request, please allow for 72 hours before any changes are reflected on the website.
Please note that some search engines may display information cached from our sites. It may take longer for search engine result pages to delete the cached data.
Why am I still seeing my name in a blue box after removing my listing?
If you have already had your data removed, and you perform a search for your name on Whitepages.com, you should expect to see your name in a blue box on the search results page. This is only a search optimization feature, and the contents of the blue box, as well as the corresponding URL/web address for the search results, are based entirely on the terms that were entered into the search field. Since we cannot control what people search for on our site, we cannot remove or prevent any specific terms from appearing in that blue box.
For example, below you can see what happens when a search is performed for "Ohayo Gozaimasu" in Seattle, WA.
A name and location will appear in the blue box, the above URL/web address, and links to Whitepages Premium below that match the search terms: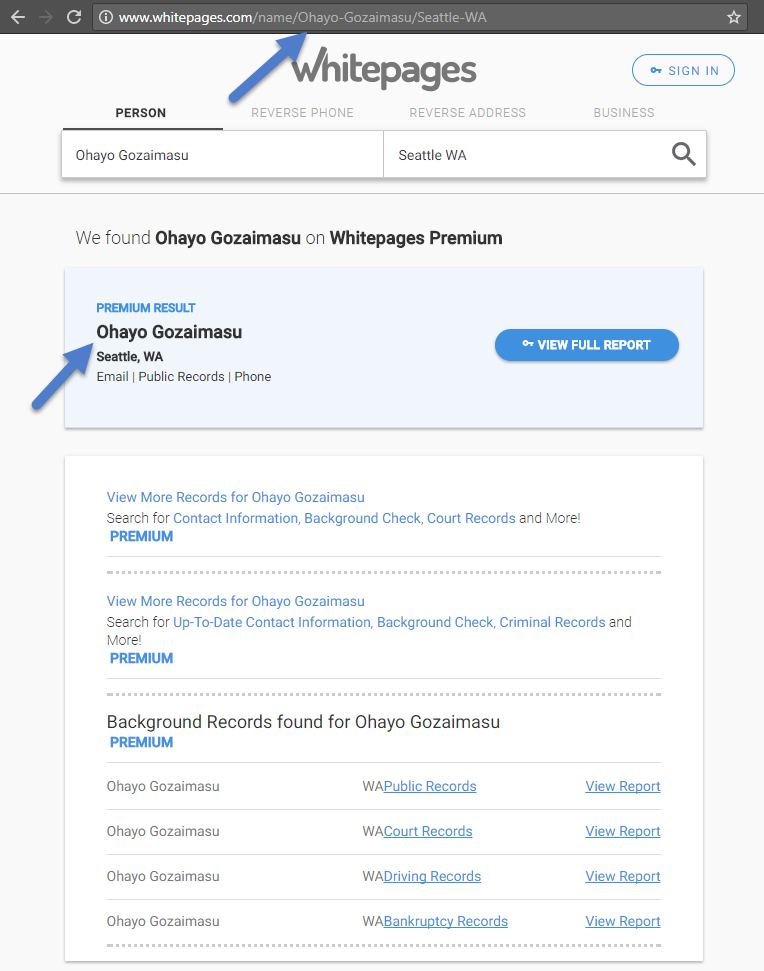 If you click on View Full Report or any of the links below, you will be taken to a search results page on Whitepages Premium that shows either no results or the closest pages we could find to match your search terms, just like any search engine. If your listing has been removed, it will not be included in these Whitepages Premium Search results.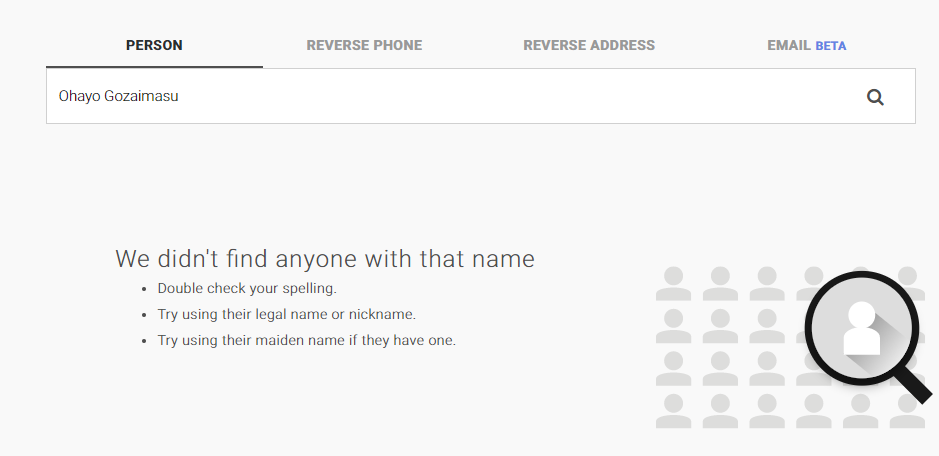 If you click on one of those links, and we do have a profile for that listing, you will see a window like this: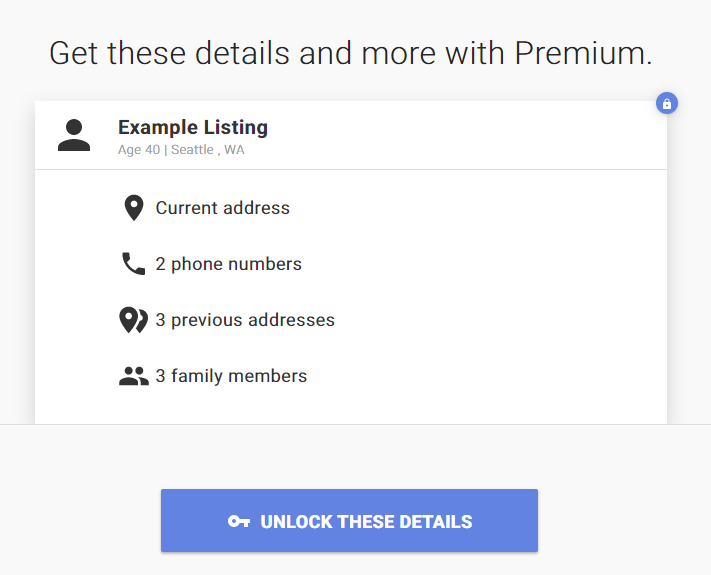 If you see the above window, or see any specific personal details that were not entered into the search field, it means we may still have a listing for you, and you can Submit a Ticket to request to have the listing removed.