Whitepages Premium will search through digitized court records from local municipalities all over the United States. When available, court records will show criminal arrests and warrants, mugshots, sex offender status, and offense and case details. If no information appears, that means that either the person you searched for has a clean record, or that those records are unavailable. When viewing a background report, it's also good to keep in mind that since these reports come directly from local municipalities, the depth of information contained in a report can vary from state to state.
When a background report is purchased, you will see any court records that Whitepages Premium has matched to the listing. We still recommend reviewing the match indicators to help you verify that the court records have been correctly associated with the listing the background report is attached to. This can be especially helpful in cases where you're trying to find someone with a rather common name.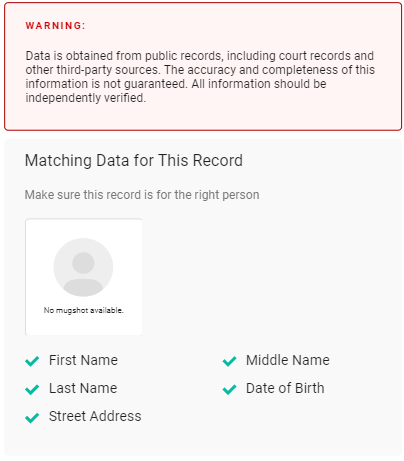 In the above example, we can see that the profile on the right indicates that the Middle name is "Not Matched," and there are multiple reasons why this could be the case. It's possible the court record does not contain a middle name, but the listing does, which would result in a mismatch. However, there is a slight possibility that the record has been erroneously associated with the listing because of the other match indicators that have lined up. We include these match indicators so that you can be aware of any information that you would need to review with added discretion.
Glossary
Below is a glossary of common terms that can be found in the criminal records contained within a background report. Please note that our definitions are general as laws, terminology, and level of detail vary from state to state. For more information on local laws and specific criminal codes, we recommend visiting your state's legislative website or the United States Library of Congress.
Arresting Agency: The institution that initiated the arrest or legal proceedings against someone.
Case Number: The number assigned by the court to the case for record-keeping purposes.
Case Type: The nature of the case. For criminal records, this can denote whether a case was criminal or traffic. Specific terminology for case type can vary between individual municipalities.
Charges Filed Date: The date on which legal charges were officially filed.
Counts: The number of times the individual was charged with the associated crime by the arresting agency.
Court: The specific court from which the criminal record originated.
Crime County: The county in which the alleged crime was committed and charges were filed.
Crime Type: These are specific types of crimes, as in theft or assault.
Disposition: The final determination in a court case or issue. There are multiple kinds of dispositions including closed, guilty, acquitted, dismissed, or amended.
Disposition Date: The date on which a determination for a case was made by the court.
Fine: A monetary penalty associated with a crime.
Offense Code: The specific code individual states use to refer to specific crimes.
Offense Date: The date on which the alleged crime was committed.
Plea: This refers to a defendant's legal declaration regarding a charge that was filed. Usually, a plea is either "guilty" or "not guilty."
Probation: A court-ordered period of time that a convict can serve under the supervision of a probation agency instead of jail time. Conditions for probation can vary and can include things like community service, counseling, or fines.
Scars & Marks: Any distinguishing factors of a person's appearance are usually noted here. This can include scars, marks, tattoos, or piercings.
Sentence: The punishment for an individual as decided by a court judge.
Source Name: This is the source of the specific court record.
Source State: This is the state in which the court record originated.