SmartCheck is an easy way to gather information about the people you're researching. To make the details easier to understand, we've created a system of tags. These highlights will quickly inform you of who you're dealing with, and what to expect as you review the comprehensive details of the report.
Click here to see what each of the tags mean in your Smart Check report!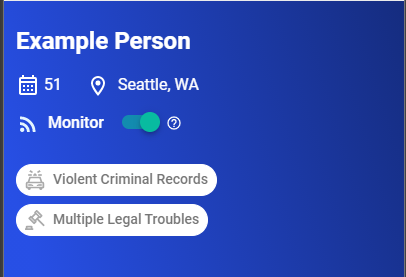 Please note that tags are generated with information that we gather from public sources. As such, we're unable to guarantee complete accuracy of all data presented. We recommend using the SmartCheck as a starting point in gathering insights, and it should not be used solely for making judgments. For more information, please review a summary of our Terms of Service in this article.
What can I expect to see in a SmartCheck Background Report?
Criminal Records provide details on criminal offenses, arrests, and warrants. These include:
Identifying information, such as birth date, gender, and mugshots when available
Offense details, including crime type, location, date, and description
Case details, including the plea, disposition, sentence, dates, and courts involved
For more information on understanding these criminal records, please review this article.
Traffic Records include:
Details on violations, including DUIs, DWIs, speeding tickets, reckless driving, and parking tickets
Offense details, including crime type, location, date, and description
Bankruptcies and Foreclosures include:
Bankruptcy details, including type, location, case information, and relevant dates
Foreclosed property details, including address, size, age, zoning, and value
Lender and loan details, including company, trustee, plaintiff info, amount, and dates
Details on the attorney, law firms, courts and trustees involved
Property Ownership include:
Property details, including address, size, year built, description, and owner/seller data
Tax and assessment details, including values, improvements, and number of rooms
Related mortgage details, including the lender, amounts, interest rates, and terms
Liens and Judgments include:
Case details, including the plea, disposition, sentence, dates, and courts involved
Lien and judgment details, including the amount, filing type, plaintiff, and record dates
Professional Licenses include:
License details, including the type, state, status, issue dates and expiration dates
Permits, including those related to concealed weapons, controlled substances, and explosives
Also includes pilot licenses, plus hunting and fishing licenses
After running a background report, you can also download a free PDF version. This allows you to keep all of that information for your own personal use. Background Report access expires after one year, so we recommend saving the document if you want long-term access. Please note that after a background report is downloaded, the PDF will not update with any future information that's added to our database.
Members can also purchase additional background reports or report bundles. More information about those options can be found here.
What do the different tags mean?
Our database uses advanced algorithms to analyze information on a person, and presents that in a tag format. Since each person is different, we're unable to share specifics of how these tags are calculated. However, the definitions listed below should give you an idea of what to expect.
Person Tags include:
Married: Person has a spouse in our records.

No Criminal History: No criminal records associated with this person.

Scarce Info Available: Only contact information is available for this person.

License tags include: Fishing, Concealed Weapon, Hunting, and Pilot
Contact Info Tags include:
Recent Move: Person has been at current address for less than a year.

Stays in One Place: Person has been at current address for more than 5 years.

Moves Frequently: Has lived at multiple addresses across several states

Relocates Frequently: Has lived at multiple addresses in the same city
Criminal and Traffic History Tags include:
Traffic Offender: At least three traffic offenses in last 5 years.

Serious Traffic Offender: Includes offenses for DUIs and hit & runs.

Noteworthy Criminal Records: Includes offenses for drugs, theft, or misconduct.

Violent Criminal Records: Includes offenses for assault or abuse cases.

Sex Offense Crimes: Includes records that mark an individual as a sex offender.
Legal, Financial, and Property Ownership Tags include:
Some/Multiple Financial Troubles: Summary of liens granted on a person.

Some/Multiple Legal Troubles: Summary of legal judgments against a person.

High Property Value: Total value of properties exceeds one million dollars.

Recent Foreclosures: Foreclosed on a house in last 5 years.

Recent Eviction: Evicted in the last 3 years.