SmartCheck is an easy way to gather information about the people you're researching. To make the details easier to understand, we've created a system of tags. These highlights will quickly inform you of who you're dealing with, and what to expect as you review the comprehensive details of the report.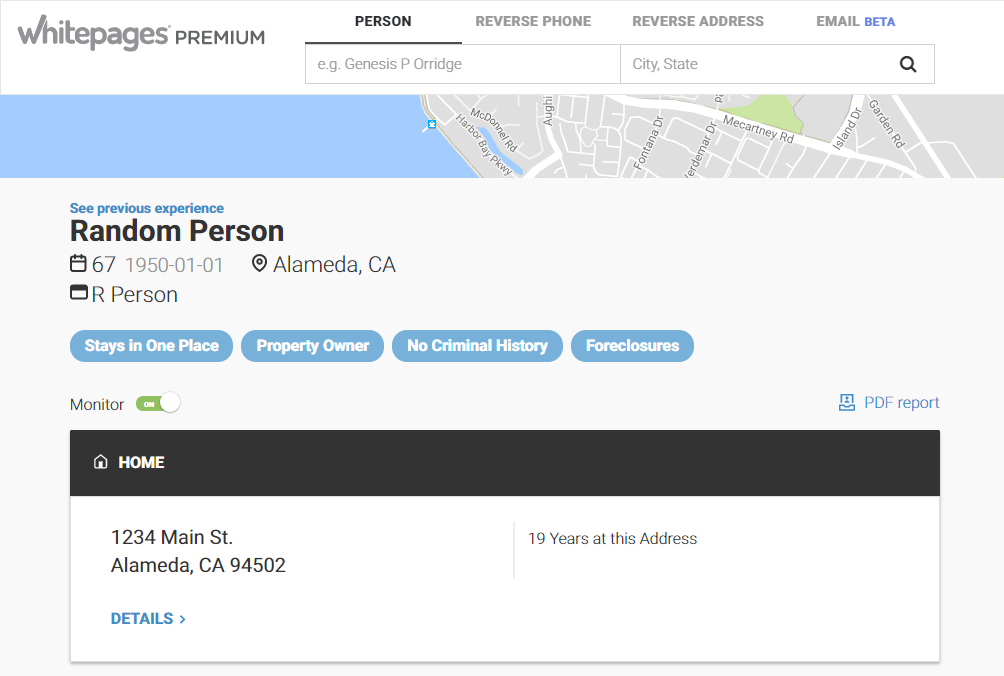 Please note that tags are generated with information that we gather from public sources. As such, we're unable to guarantee complete accuracy of all data presented. We recommend using the SmartCheck as a starting point in gathering insights, and it should not be used solely for making judgments.
Tag Glossary
Our database uses advanced algorithms to analyze information on a person, and presents that in a tag format. Since each person is different, we're unable to share specifics of how these tags are calculated. However, the definitions listed below should give you an idea of what to expect.
Person Tags
Married: Person has a spouse in our records.

No Criminal History: No criminal records associated with this person.

Scarce Info Available: Only contact information is available for this person.

License tags include: Fishing, Concealed Weapon, Hunting, and Pilot
Contact Info Tags
Recent Move: Person has been at current address for less than a year.

Stays in One Place: Person has been at current address for more than 5 years.

Moves Frequently: Has lived at multiple addresses across several states

Relocates Frequently: Has lived at multiple addresses in the same city
Criminal and Traffic History Tags
Traffic Offender: At least three traffic offenses in last 5 years.

Serious Traffic Offender: Includes offenses for DUIs and hit & runs.

Noteworthy Criminal Records: Includes offenses for drugs, theft, or misconduct.

Violent Criminal Records: Includes offenses for assault or abuse cases.

Sex Offense Crimes: Includes records that mark an individual as a sex offender.
Legal, Financial, and Property Ownership Tags
Some/Multiple Financial Troubles: Summary of liens granted on a person.

Some/Multiple Legal Troubles: Summary of legal judgments against a person.

High Property Value: Total value of properties exceeds one million dollars.

Recent Foreclosures: Foreclosed on a house in last 5 years.

Recent Eviction: Evicted in the last 3 years.