Report Monitoring is a feature that will notify you via email when new information is added to a listing. This feature is available on both Whitepages Premium and our free site, Whitepages.com. Here are some of the updates you would receive after monitoring a listing:
Updates for new information added to Whitepages.com listings include:
Landline phone numbers
Current addresses
Relatives
Updates for new information added to Whitepages Premium listings will also include:
Mobile phone numbers
Historical contact info
Criminal records
Public legal & financial records
Changes to existing records in SmartCheck background reports, such as details relating to a particular criminal offense, may not trigger a Report Monitor update. However, any new records added will be included in this service.
Report Monitor is available on most person and phone listings, but some do not support this feature. In these cases the Report Monitor toggle will not appear on the listing.
How do I enable/disable Report Monitoring?
Report Monitoring can also be manually enabled and disabled from the listing page associated with a person's identity on either Whitepages.com or Whitepages Premium.
At the top of a person listing, you'll find a sliding button that allows you to toggle whether or not you want to monitor that listing for updates. When this feature is enabled, the sliding button will be right facing.

Report Monitor is OFF for this listing

Report Monitor is ON for this listing
You can also manage your monitored listings by accessing the Monitored Reports section of your dashboard. There you'll find a list of all the listings you're currently monitoring. To turn off report monitoring for a listing, click Edit.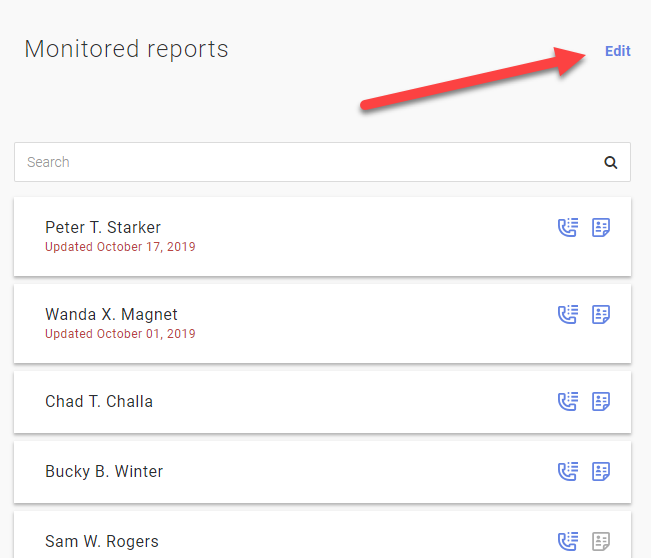 After that, the phone and report icons will switch to a trash can, which you can then click to un-monitor that listing. This will NOT delete the associated lookup or background report, and you will still have access to it and any updates in the future. You'll simply no longer be notified about any updates for that particular listing.
How am I notified when new information is added to a report?
When new information is added to a listing you are monitoring, we'll send an email alert to the email address you registered with us to let you know. These are sent from reply at email-whitepages.com. From there, all you need to do is click on the link provided in the email to go straight to the updated listing.
From there, you'll find a red indicator that reads "NEW" next to the piece of information that was added.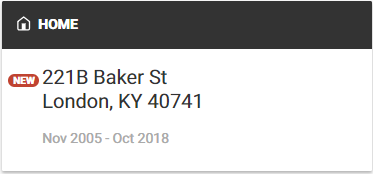 Whitepages Premium members will also be able to view recently updated listings on your Account Dashboard after logging in.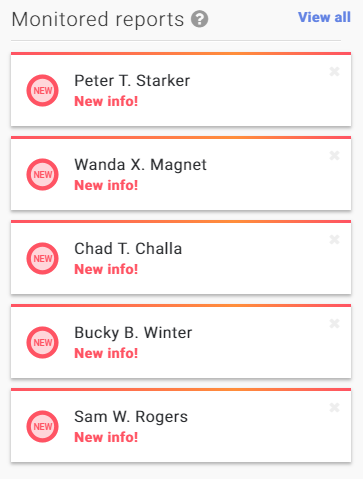 Whitepages databases are updated at regular intervals, although there are not always new details to add to every listing. Rest assured that when new information is acquired on one of your monitored reports, we'll let you know.
How many reports can I monitor?
You can monitor up to 100 reports at a time.
Whitepages Premium members can view recently recently updates reports on your Account Dashboard, and see a full list of monitored reports in the Monitored Reports section of your account.
Am I able to download information from these reports?
Yes! If you purchased a SmartCheck report, you will be able to download it as a PDF document that can be saved to your local device. The PDF will include the latest update of the SmartCheck report, but will not highlight recent changes.
Once the document saves to your local device, it will no longer update with new information from our servers. For the most up-to-date information, we recommend that you return to the Monitored Reports section of your Premium Account.