The Report Monitoring feature sends updates on Whitepages Premium Person Search listings. When we receive updated data related to the Background Report or contact details, the listing will be updated to reflect these changes.
Contact details that are updated as part of Report Monitoring:
Phone Number
Address
Alias
Relatives
Known Associates
Additional Background Report details that are updated as part of Report Monitoring:
Criminal Records
Bankruptcies
Liens
Judgments
Properties
Licenses
Changes to existing records in the Background Report, such as criminal offenses, may not be automatically updated. Any new records will be included in this service, however.
Please note that Report Monitoring can only be activated on a listing associated with an individual person. It is not tied to results from other non-person searches such as Reverse Phone or Reverse Address.
How do I enable/disable Report Monitoring?
Report Monitoring is automatically enabled whenever your purchase a SmartCheck background report. Report Monitoring can also be manually enabled and disabled from the listing page associated with a person's identity. This can be done whether or not you've purchased a SmartCheck report.
You'll find a sliding button near the top of the page that allows you to toggle whether or not the report is being monitored. If this feature is enabled, the sliding button will be green and right-facing.
You will find the button underneath the name in the profile you are looking at. If you purchased a background report, you will find the toggle here: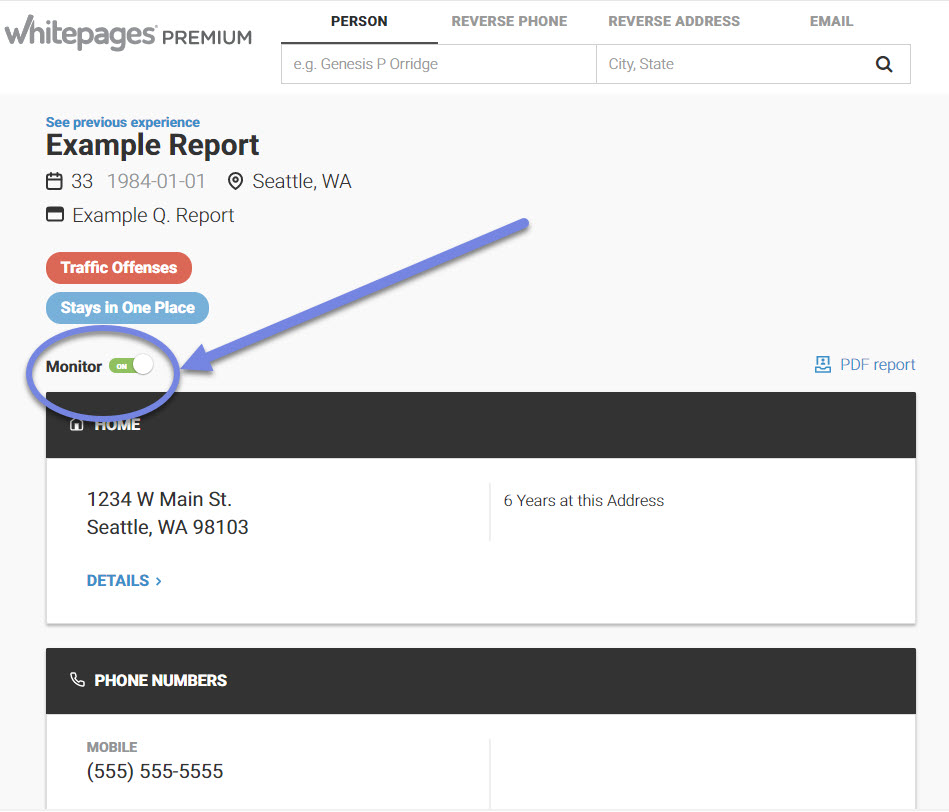 If you have not purchased a background report, and would like to monitor the contact details, you will find the toggle here: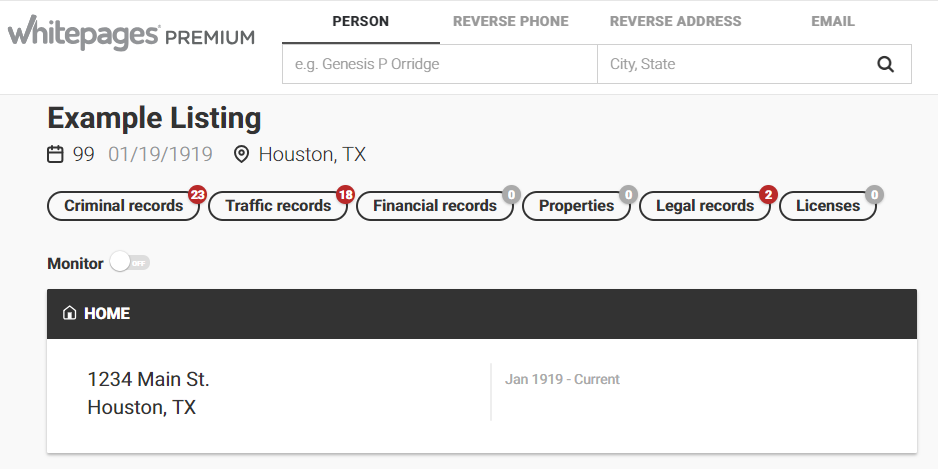 How many reports can I monitor?
Any Premium Member can monitor up to 100 reports at a time. For ease of checking your currently monitored reports, we've included a visual tracker on your Account Dashboard that shows the reports most recently updated. All of your monitored reports can be found in the Monitored Reports section.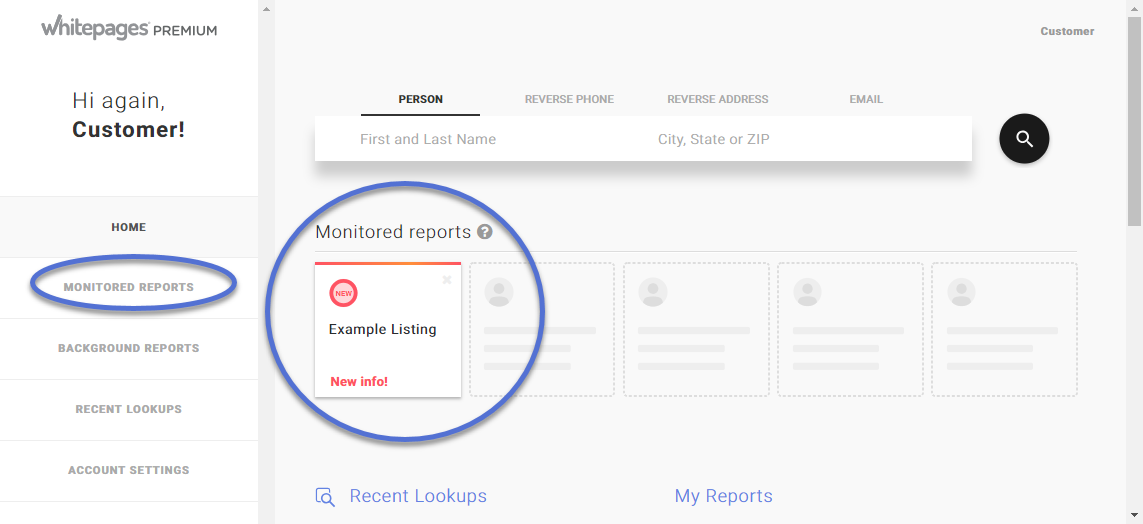 In the event that you try to enable reports beyond the current cap of 100, you will receive an error notification. You can then choose to un-monitor one or more of your reports, which will allow you to choose a new one. You can stop monitoring a report by turning off the toggle on the listing, or clicking the X on the listing card on the dashboard.
Is there an additional cost associated with Report Monitoring?
There are no extra fees for Whitepages Premium Members. Your regular monthly payment already includes the ability to start and maintain these reports. Contact details will always be included when you enable Report Monitoring.
You can also include details associated with a Background Report, such as criminal offenses, bankruptcies, foreclosures, liens and judgments. In order to track these details, you will need to use a Background Report credit on the listing. These can be purchased here.


How am I notified when new information is added to a report?
There are two primary ways that we notify members about updates to their Report Monitoring: the visual tracker on the website, and through email alerts.
On the Premium dashboard, you'll have visibility into the status of all monitored reports. Whenever we add details to one of these person listings, you'll notice a red alert reading "New info!". Upon viewing that person's listing, you'll also see red exclamation points next to any data piece added since your last visit.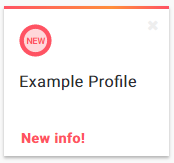 Dashboard Notification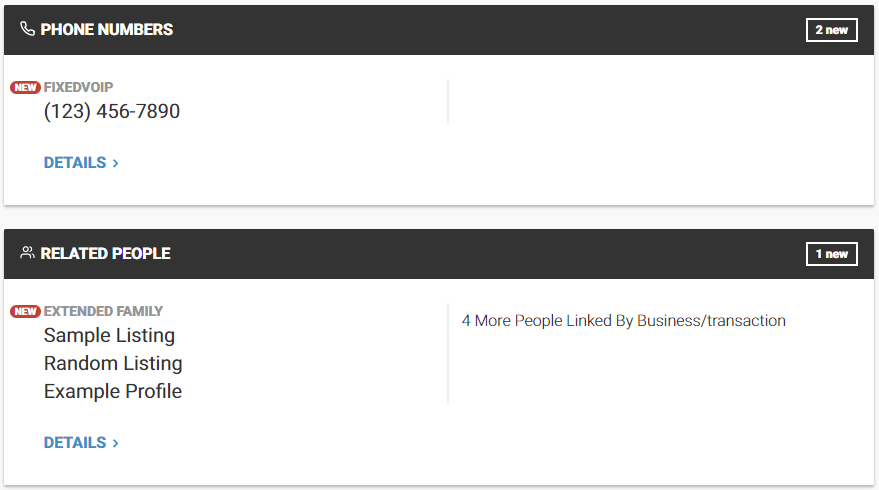 Red indicators show the section with new info.
Click details to expand the section and see what's new. 
Additionally, email alerts are sent to the address registered to the Premium Account. These are sent from premiumoffers@whitepages.com, within 24 hours of adding new information to our database. If you do not see these emails, please add that address as a safe sender with your email provider.
Whitepages databases are updated at regular intervals, although there are not always new details to add. Rest assured that when new information is acquired on one of your monitored reports, multiple methods are used to alert you.
Am I able to download information from these reports?
Yes! If you purchased a SmartCheck report, you will be able to download it as a PDF document that can be saved to your local device. The PDF will include the latest update of the SmartCheck report, but will not highlight recent changes.
Once the document saves to your local device, it will no longer update with new information from our servers. For the most up-to-date information, we recommend that you return to the Monitored Reports section of your Premium Account.