Background reports on Whitepages already contain all the information we have on a person's criminal history that has been made digitally available by local courthouses. However, some counties can be a little slow about digitizing their records, and some don't do this at all. Therefore, in order to get the most up to date information about a person, it is sometimes necessary for someone to make a manual request of a county court to retrieve the records. That's where Court Runner comes in.
The Court Runner service allows you to have one of our researchers request up to date criminal records directly from county courts throughout the continental United States, and retrieve the details of their criminal records from the past 7 years. Since these requests are manually made by individual researchers at your chosen county courthouse, there is a non-refundable service cost and it will take some time for the records to get returned to you.
What can I expect to see in a Court Runner report?
This can vary somewhat between individual country courts, but you can expect to see any details on felony or misdemeanor court cases from the past 7 years that resulted in a conviction. Some counties will go back as far as 10 years, and some will contain traffic records as well. County courts do not provide information beyond that, nor do they contain records for civil or federal court cases or arrests that do not end in conviction.
If you order a Court Runner report, and no records are returned, that means that none of the above information was found in the chosen or the past 7 years for the person you are researching.
How do I order and view Court Runner info on a person?
You can order a Court Runner report directly from the Background report. All you have to do is scroll down to the blue Court Runner section of the report, which is located underneath the Criminal, Legal & Financial History section, here: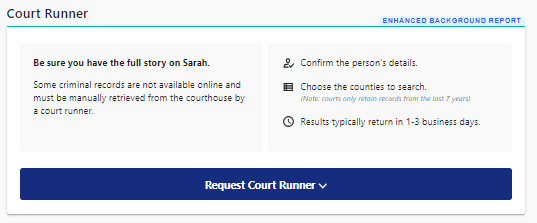 After requesting a court runner report, you'll be asked to confirm which counties you'd like to send a court runner to. Once the results come back, we'll put the details here in the same place.
When can I expect the additional info from Court Runner to arrive?
Unlike normal Background reports on Whitepages, you will not receive Court Runner information instantly. Since real people will be physically going to a local county court, the amount of time it takes will depend on the location of the courthouse. The wait time will increase if requesting records from multiple counties because the results will not be available until all counties have responded.
Why are there additional fees associated with Court Runner?
Since the Court Runner service often involves an actual person physically traveling to a county courthouse, they are paid upfront to gather and compile the information for your report, which is then placed into your Whitepages Premium account for you to view.
While many counties do not charge any fees to request criminal records, some counties do. These fees can range between $1 and $65. We will of course make you aware of any fees imposed by specific counties before you make any purchases.
Due to the additional costs involved with making these requests, Court Runner reports are non-refundable.
Who do I contact with questions about Court Runner?
If you have any additional questions about Court Runner, you can always contact us and we would love to help. Contact us by clicking here.